From the Shelf
Magic Mirrors
These shadowy, atmospheric novels for young readers find their inspiration in Snow White, the 19th-century German fairy tale by the Brothers Grimm. These aren't just "fractured" fairy tales, they've been bludgeoned in cold blood in a dark alley.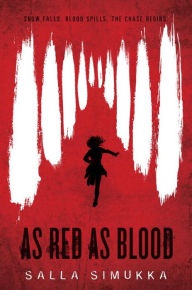 An international bestseller, here translated from the original Finnish, Salla Simukka's As Red as Blood (Crown) will chill and thrill. The debut of the As Red as Blood trilogy stars the tough-as-nails 17-year-old Lumikki, named after the Finnish Snow White. She stumbles into a real mystery: a stash of 30,000 euros, once blood-soaked but now washed and hung to dry in the darkroom of her "elite magnet school for the arts." As Lumikki gets pulled in to the murder-mystery by three "money-laundering" classmates, the narrative unfolds in a distant, observational, detective-novel style that suits both the story and the frigid Scandinavian setting. Readers are tossed only tantalizing morsels of Lumikki's own mystery--why she's living on her own and why she's become ninja-level-skilled at self-preservation. Greed, cruelty, crime, corruption, lust, secrets and betrayal run amok in this suspenseful YA trilogy debut.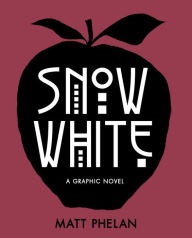 Snow White: A Graphic Novel (Candlewick) by Matt Phelan (Bluffton; The Storm in the Barn) begins in New York City's Central Park in 1918 when the young Samantha "Snow" White's dying mother coughs bright red drops of blood into a handkerchief. Her father, the "King of Wall Street," remarries a vain, gold-digging, indeed evil Broadway star who eventually kills him and wants his daughter dead too. A band of street kids called "the Seven" save Snow just in time--more than once. How Phelan manages to tell this nail-biter of a story with so few words in comic-strip panels is a testimony to his great talent, and his murky pencil, ink and watercolor artwork elegantly captures the ominous mood. Dark, gorgeous and ultimately heartening. --Karin Snelson, children's & YA editor, Shelf Awareness



In this Issue...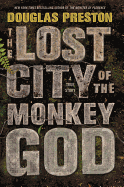 Modern explorers find a hidden city in the thick jungle of Honduras and uncover a disease that's lain dormant for centuries.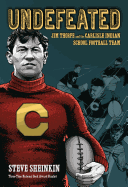 In Undefeated, National Book Award finalist Steve Sheinkin tackles the unparalleled achievements of Jim Thorpe and the all-Native American team that helped shape modern football.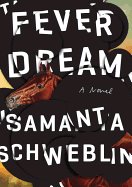 A woman and a boy sit in the dark, probing a shared story of love, danger and "the invisible thread that ties us together."
Review by Subjects:
Fiction ⋅ Mystery & Thriller ⋅ History ⋅ Religion ⋅ Children's & Young Adult ⋅ Reference & Writing

Upcoming Events
Karen White Book Talk & Signing
01/23/2017 - - 2:00PM
New York Times bestselling author Karen White invites you to explore the brick-walked streets of Charleston in The Guests on South Battery (NAL, hardcover, $26.00, on sale 1/10/17), where historic mansions house the memories of years gone by, and restless spirits refuse to fade away. Ms. White will be discussing this new addition to her Tradd Street series at a book talk, followed by a Q&A session and a book signing, at Fiction Addiction on Monday, January 23rd, at 2pm.   *Note: There are two ticket options for this event. The $28 ticket guarantees a seat, admits one to the event, and includes a copy of The Guests on South Battery. The $10 ticket is standing room only, admits one to the event, and includes a $10 voucher that can be redeemed at the event. If seats do not sell out, we will seat standing room customers in the order they signed up. Tickets and books can be purchased online, at the store, or by calling Fiction Addiction at 864-675-0540.     With her extended maternity leave at its end, Melanie Trenholm is less than thrilled to leave her new husband and beautiful twins to return to work, especially when she's awoken by a phone call with no voice on the other end — and the uneasy feeling that the ghostly apparitions that have stayed silent for more than a year are about to invade her life once more.   But her return to the realty office goes better than she could have hoped, with a new client eager to sell the home she recently inherited on South Battery. Most would treasure living in one of the grandest old homes in the famous historic district of Charleston, but Jayne Smith would rather sell hers as soon as possible, guaranteeing Melanie a quick commission.   Despite her stroke of luck, Melanie can't deny that spirits — both malevolent and benign — have started to show themselves to her again. One is shrouded from sight, but appears whenever Jayne is near. Another arrives when an old cistern is discovered in Melanie's backyard on Tradd Street.   Melanie knows nothing good can come from unearthing the past. But some secrets refuse to stay buried…. Tickets: http://www.fiction-addiction.com/?page=shop/cname&cname=karen+white.
ReadUp All Year: Middle Grade & Young Adult Author Panel
01/25/2017 - - 5:00PM
ReadUp Greenville — Greenville's YA and middle-grade book festival — was such a success that we want to keep the excitement (and reading!) going all year.   Our first ReadUp All Year event will feature Megan Shepherd (author of The Secret Horses of Briar Hill and the Cage series), Carrie Ryan (author of the Map to Everywhere series and Daughter of Deep Silence), and Jessica Khoury (author of The Forbidden Wish), who will be at Fiction Addiction on Wednesday, January 25th, 2017, at 5pm. Like ReadUp Greenville, this event is targeted to teens, preteens, and anyone who loves middle-grade and YA literature.   *Note: This event is ticketed. Your book receipt from Fiction Addiction or co-sponsor M. Judson is your ticket to the event. You may purchase any one of the authors' books, frontlist or backlist, to count as your ticket. Or if you already know you want one book from each author, feel free to bring two friends with you! Books can be purchased online, at the store, or by calling us at 864-675-0540.     Click here to see more ReadUp All Year events!       Described as "reminiscent of the Chronicles of Narnia" in a starred review, The Secret Horses of Briar Hill by Megan Shepherd (Delacorte, hardcover, $16.99) shows readers everywhere that there is color in our world — they just need to know where to look.   There are winged horses that live in the mirrors of Briar Hill hospital — the mirrors that reflect the elegant rooms once home to a princess, now filled with sick children. Only Emmaline can see the creatures. It is her secret.   One morning, Emmaline climbs over the wall of the hospital's abandoned gardens and discovers something incredible: a white horse with a broken wing has left the mirror-world and entered her own.   The horse, named Foxfire, is hiding from a dark and sinister force — a Black Horse who hunts by colorless moonlight. If Emmaline is to keep him from finding her new friend, she must surround Foxfire with treasures of brilliant shades. But where can Emmaline find color in a world of gray?   Megan is also the author of the young adult Madman's Daughter trilogy, and the young adult Cage series.   Magical worlds and incredible creatures fill the pages of Shadows of the Lost Sun (Little, Brown, hardcover, $17.99, on sale 1/10/17), the newest action-packed adventure in Carrie Ryan and John Parke Davis's Map to Everywhere series!   Fearless adventurers Marrill and Fin have just barely stopped the Iron Tide and the evil wizard Serth from destroying the Pirate Stream. Now they're on a mission to find Fin's missing mother, but before they can blink, Fin's people have found him — and they're not as friendly as he'd hoped. In fact, they're after a powerful wish orb that could resurrect the debilitating Iron Tide and end the world as we know it. Without their captain Coll and wizard friend Ardent to guide them, are Marrill and Fin brave enough to take on the magic (and evil) of the Pirate Stream on their own? Find out in this exhilarating third book that raises the stakes to new heights!   Carrie is also the author of the young adult novel Daughter of Deep Silence and the young adult Forest of Hands and Teeth trilogy.   She is the most powerful Jinni of all. He is a boy from the streets. Their love will shake the world…   When Aladdin discovers Zahra's jinni lamp, Zahra is thrust back into a world she hasn't seen in hundreds of years — a world where magic is forbidden and Zahra's very existence is illegal. She must disguise herself to stay alive, using ancient shape-shifting magic, until her new master has selected his three wishes.   But when the King of the Jinn offers Zahra a chance to be free of her lamp forever, she seizes the opportunity — only to discover she is falling in love with Aladdin. When saving herself means betraying him, Zahra must decide once and for all: is winning her freedom worth losing her heart?   As time unravels and her enemies close in, Zahra finds herself suspended between danger and desire in The Forbidden Wish (Razorbill, paperback, $9.99, on sale 1/24/17), a dazzling retelling of the Aladdin story from acclaimed author Jessica Khoury.   Jessica is also the author of the young adult novels Origin, Vitro, and Kalahari.   Tickets: http://www.fiction-addiction.com/?page=shop/cname&cname=january+event.
Book Candy
How to Host a Book Club
Bustle offered advice on "how to host a book club in the new year, because 2017 is the time to actually do it."

---
"Essential reading: nine experts on the books that inspired them" were featured in the Guardian.

---
"This professor bought a book that she'd previously owned years ago," Buzzfeed reported.

---
Cats! "This 19th-Century book chronicles Victorians' strange cat fears and fascinations," Atlas Obscura reported. And American Libraries explored reasons "why the number of library cats in the United States has declined drastically in recent decades."

---
For the Lightbridge bookshelf, "red pillars of the Golden Gate bridge and radial cables of the Rio Antirio bridge are the basic elements forming this wall lighting installation with a bookshelf use."

Great Reads
Rediscover: The Presidents Club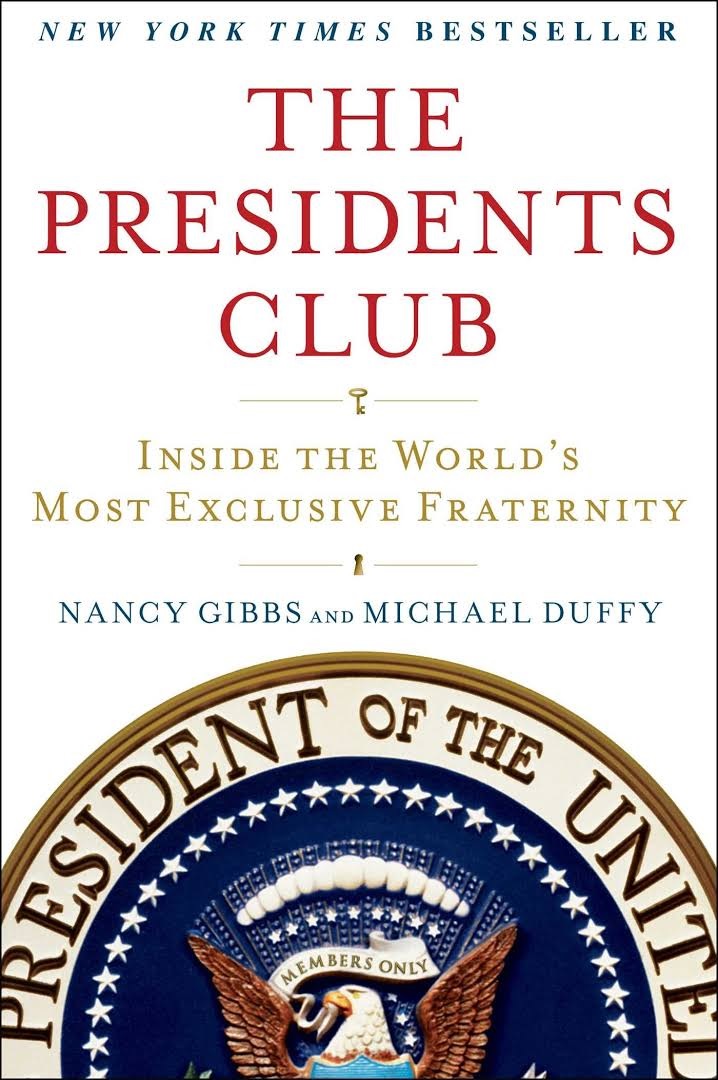 The end of Barack Obama's presidency marks his passage into one of the most exclusive and influential groups in domestic politics: living ex-presidents of the United States. Their relationships with sitting presidents have ranged from cordial and cooperative to less-than-helpful. The coming administration's ties with President Obama may fall on the antagonistic side of this spectrum although since the election, the two have been publicly cordial.

The Presidents Club: Inside the World's Most Exclusive Fraternity by Nancy Gibbs (managing editor for Time magazine) and Michael Duffy (Time's deputy managing editor) chronicles the history of ex-presidents and their sitting counterparts. The book runs from the Truman through Obama administrations, including the former's use of Herbert Hoover to deliver food to Europe after World War II and the latter's complicated ties with Bill Clinton (the book was published just before Obama's reelection). Clinton's bonds are surprising--he became close friends with George H.W. Bush and George W. Bush, and had regular late-night phone conversations with Richard Nixon before his death in 1994. These stories of cooperation, advice and congeniality, sprinkled with some blame-gaming and conspiratorial maneuvering, seem now like high-water marks of modern presidential politics. The Presidents Club was released in paperback by Simon & Schuster in 2013 ($18, 9781439127728). --Tobias Mutter

The Writer's Life
Erica Ferencik: Just Tell the Story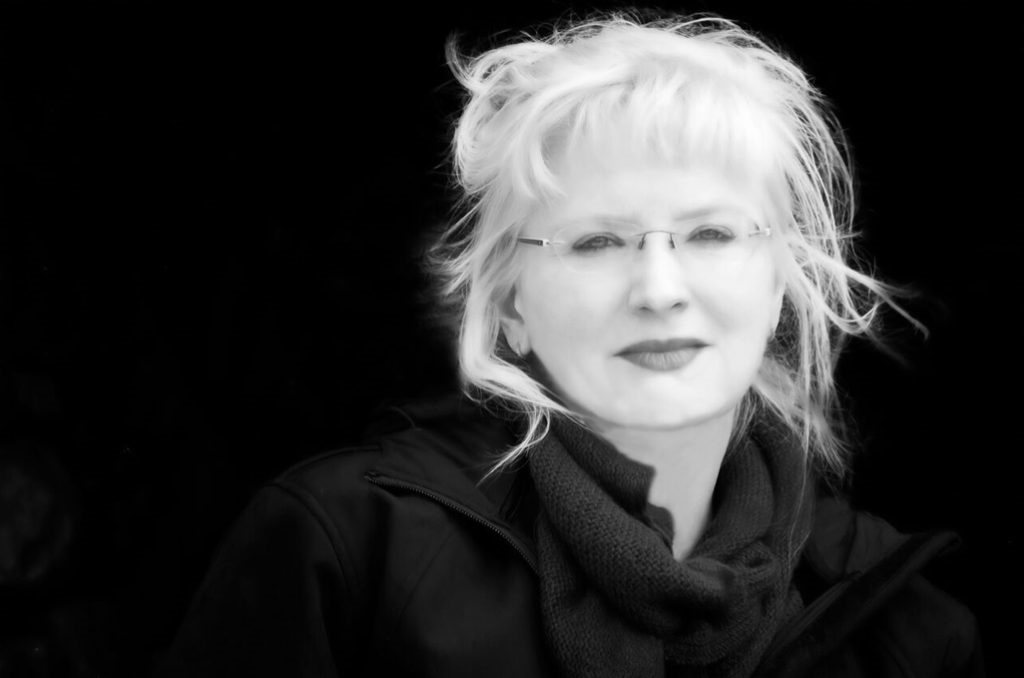 photo: Kate Hannon
Erica Ferencik is a graduate of the MFA program in Creative Writing at Boston University. Her work has appeared in Salon and the Boston Globe, and on National Public Radio. The River at Night (Gallery/Scout Press; reviewed below) is a thriller that chills: four women, friends for 15 years, embark on a whitewater-rafting trip in the wilds of northern Maine. What could possibly go wrong? They find out rather quickly, after a rafting accident, about "things that lurk in the woods" as Ferencik "[drops] readers into pitfalls, unseen dangers and bubbling cauldrons of backstory." Our review is below.

You sold real estate in Boston, far from the vast Maine woods.

I did sell real estate for a living for many years. Hey, a girl has to live. However, I only sold locally, the Metrowest Boston area, never in Maine. In my other life--my writing life--I am a stickler for getting every detail of a story right, especially settings. So I made it my business to see first-hand what I intended to write about, as well as interview those who might give me a flavor for some of the characters I was trying to create.

The farthest north in Maine I had ever been was Portland, so it was time to plan a trip up into the hinterlands--into the storied Allagash Wilderness, over 5,000 square miles of rivers, lakes, and forest. My goal--one of them--was to interview people who live off the grid. But I didn't know a soul up there.

I called the chambers of commerce in towns from Orono to Fort Kent, as far north and west as you can go, until the road ends and the forest begins, which is a little town called, of all things: Dickey.

Everyone I spoke to on the phone said: Well, these folks don't want to be contacted. That's why they live off the grid... but I do know someone who knows someone... soon I was able to line up half a dozen interviews with people who had decided to disappear.

Even though I made hotel reservations for nine nights, I only needed them for the first and last, because everyone I met offered me a place to stay.

I crashed in two cabins, a teepee, a yurt, a rehabbed school bus and a boat (on land, not water.) In November. Sometimes a good mile from anything resembling a road. In the end, I was able to get a great feel for the vastness of the place, and land some great interviews as well.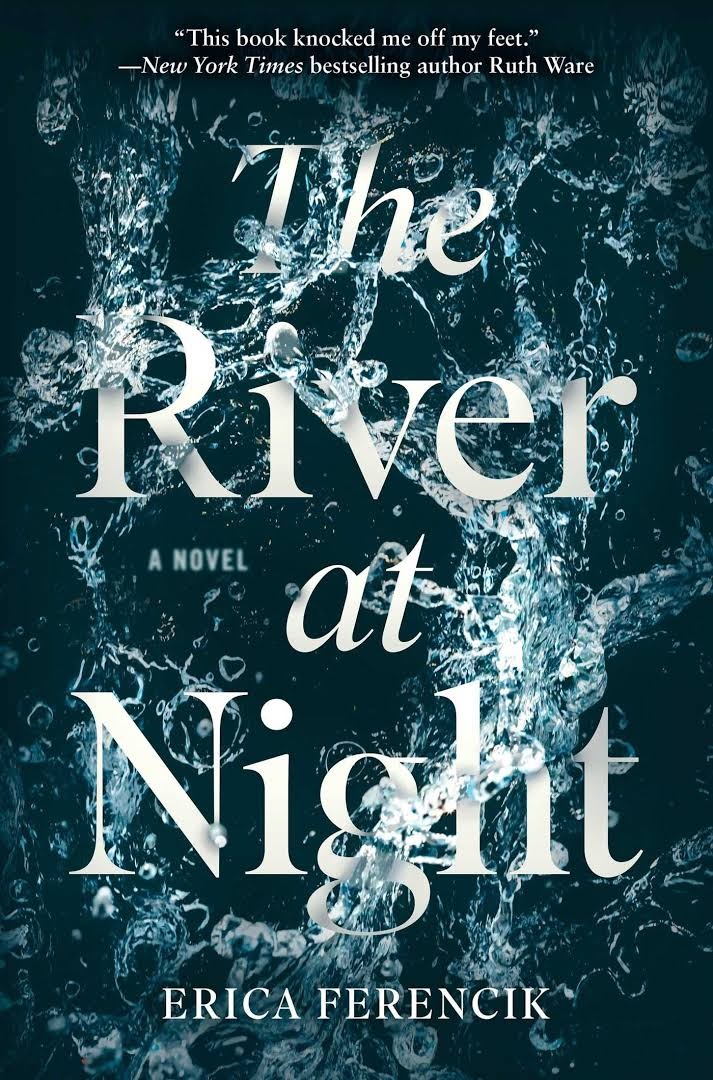 You did standup and wrote jokes for Letterman, but your novel is so dark. Where does that come from?

Mark Twain said: "The secret source of humor itself is not joy, but sorrow. There is no humor in heaven."

Yes, you are right! The River at Night is quite dark, and I am also quite funny (see my satiric novel, Cracks in the Foundation). Lots of people find this dichotomy hard to reconcile, which is understandable, but the fact is, most (good) humor comes from some kind of dark place. It's impossible to make a good joke without some kind of wicked twist. In fact, the best humor is equal parts dark and light. As a standup, you risk being pretty toothless--as well as not that funny--if everything is kept light, and let me tell you, being not that funny on stage is no fun at all, for anybody.

As a comedian, you hold a kind of power over the audience, similar to what you do when you write a suspense novel. As an author, you are withholding something that you reveal in your own time, in your own way, in order to elicit some sort of reaction from the audience. Same with a joke.

Part of being a good storyteller is projecting a sense of realism in your work. Since humor is a part of life, it's great to make it a natural part of the narrative, when appropriate in the story. Have you ever read something that is absolutely humorless? There is something unrealistic about it, as if the author was blind to some elements in his or her own story. Not the most satisfying thing.

Is this an homage to Deliverance?

In a big way. I read and fell in love with James Dickey's 1970 novel a couple of years ago. Most people have seen the movie--cue the banjos--but I'm not sure the book has gotten the love it deserves.

Dickey was a poet, but he also wrote this fabulous, propulsive, first-person novel about four male friends who go whitewater rafting in the Georgia wilderness. The book was utterly terrifying to me--this series of bad decisions and bad luck that led to disaster. It was so unpretentious, just an author telling a story that felt as if it could happen to anyone, a story that became more and more horrific as it unfolded. Before I read the book, I had come off a spate of reading novels that tried too hard to be scary or suspenseful, when life itself--even just barely tweaked--can be so much more frightening and edge-of-your seat. So Dickey really inspired me to just tell the story. There was something so simple and wonderful about that freedom.

I am also fascinated with the joys and terrors of female friendship, and about the natural world, so it all fit together for me to write The River at Night. --Marilyn Dahl, editor, Shelf Awareness for Readers

Book Reviews
Fiction

Riverhead Books, $25, hardcover, 192p., 9780399184598
Putnam, $27, hardcover, 480p., 9781101982242
Scribner, $26, hardcover, 304p., 9781501138973
Farrar, Straus & Giroux, $26, hardcover, 288p., 9780374148430
Mystery & Thriller
Gallery/Scout Press, $26, hardcover, 304p., 9781501143199
Atlantic Monthly Press, $25, hardcover, 320p., 9780802125330
Quercus, $26.99, hardcover, 384p., 9781681442976
History

Grand Central, $28, hardcover, 336p., 9781455540006
Religion
Picador, $22, hardcover, 272p., 9781250119841
Children's & Young Adult

Roaring Brook, $19.99, hardcover, 288p., ages 10-18, 9781596439542
Crown, $16.99, hardcover, 240p., ages 8-12, 9781101934593
Arthur A. Levine/Scholastic, $16.99, hardcover, 32p., ages 3-5, 9781338052206
Reference & Writing
Simon & Schuster, $16, paperback, 304p., 9781501134579