From the Shelf
The Sun Sets on Amelia Peabody
The Painted Queen, the final book in the Amelia Peabody series, has just been released by William Morrow. Though I cannot remember the precise year I discovered the series by Elizabeth Peters, I do recall my response: Gimme! One after the other, I devoured each installment. I couldn't get enough of the supremely feisty heroine whose ability to attract murder and mayhem was matched only be her keen intelligence and rapier wit. And her archeologist husband, Radcliffe Emerson? Bluster and brawn and a brain coveted by his peers, this was a man up to the challenge.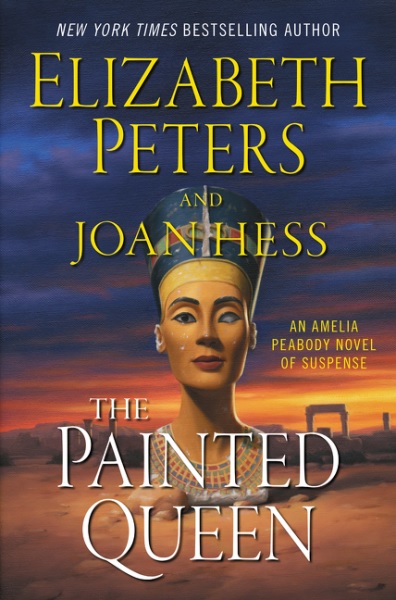 I suppose Peters could have stopped there and I would have been happy--a well-suited couple able to laugh at themselves while catching the bad guys will always hold a soft spot in my heart. But she didn't. Twisty, clever plots that kept me reading into the night? Check. Historical detail that sparked interest rather than bogged down the narrative? Yep. And the Middle East. Oh, the Middle East. As important a character as Amelia or Emerson, Peters's settings leapt off the page. After finishing one of Amelia's adventures, I felt parched, even sand-swept, a touch of wanderlust calling. It all sounds so clichéd, but I look back on the time spent reading the Peabody series as I would any cherished memory.

So what of The Painted Queen, you ask. A story begun by Peters before her death in 2013 and finished by her dear friend, accomplished mystery writer Joan Hess--I was skeptical. I needn't have been. It's all there. The repartee, battle of wills, danger, even Nefertiti's bust. Oh, how I'll miss Amelia. But hers is a fitting and adventurous end written with love and serious skill. Not a bad way to go out. Not a bad way at all. --Stefanie Hargreaves, editor, Shelf Awareness for Readers



In this Issue...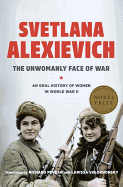 The Unwomanly Face of War is Nobel Prize-winner Svetlana Alexievich's searing oral history of World War II through the eyes of Russian women who fought and served.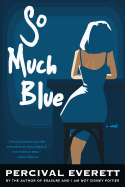 Percival Everett renders a rich emotional tapestry in this novel about an artist coming to terms with his past.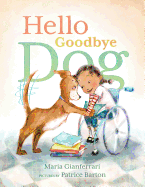 Hello Goodbye Dog Moose loses the "goodbye" when her human Zara takes her to therapy dog school, making Moose the official "Class Reading Dog."
Review by Subjects:
Fiction ⋅ Mystery & Thriller ⋅ Science Fiction & Fantasy ⋅ Biography & Memoir ⋅ History ⋅ Travel Literature ⋅ Children's & Young Adult

Great Reads
Rediscover: The Miracle of Dunkirk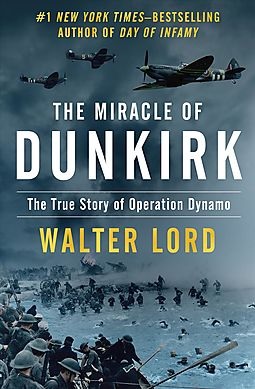 Between May 26 and June 4, 1940, more than 338,000 British and French soldiers were evacuated from the beaches of Dunkirk in Northern France. Following Hitler's stunningly successful invasion of Western Europe, the British Expeditionary Force found itself trapped and on the verge of annihilation. The new prime minister, Winston Churchill, called the imminent fall of France "a colossal military disaster," and said "the whole root and core and brain of the British Army" was about to be lost at Dunkirk. And yet, like so many other pivotal moments during World War II, a mistake by Hitler--letting the German air force destroy the troops at Dunkirk instead of moving in on the ground--allowed the Allies to avoid disaster. In what became known as the Miracle of Dunkirk, a flotilla of ships, including small, sometimes civilian-crewed vessels, sailed stranded soldiers back home across the English Channel. Though the BEF lost nearly all its equipment, the rescued soldiers gave a badly needed morale boost after the calamitous collapse of the Continent.

History writer Walter Lord (1917–2002), best known for his riveting, minute-by-minute account of the sinking of the Titanic in A Night to Remember (1955), chronicles the evacuation of Dunkirk in The Miracle of Dunkirk (1982). Using interviews with surviving sailors and soldiers, Lord's book presents the perfect background material to the new Christopher Nolan film, Dunkirk, which has received rave reviews. The Miracle of Dunkirk was reprinted by Open Road Media on July 18, 2017 ($16.99, 9781504047548). --Tobias Mutter
The Writer's Life
Tal M. Klein: Cogito Ergo Sum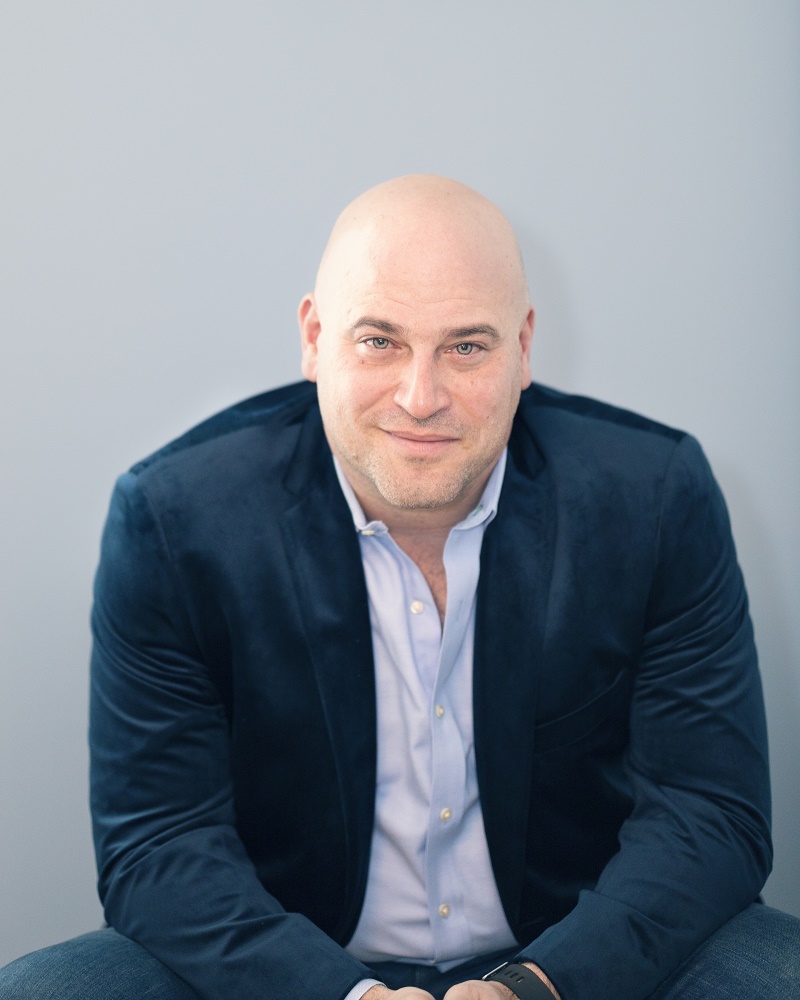 photo: Lai Long
Tal M. Klein's debut novel, The Punch Escrow (reviewed below), won the Inkshares Geek & Sundry Hard Science Fiction publishing contest and will be the first book published by the Geek & Sundry imprint. Klein took his cues from hard science fiction books like The Martian while writing The Punch Escrow, emphasizing scientific accuracy and plausibility in his vision of 2147 Earth. In The Punch Escrow, Joel Byram, a "salter" who trains artificial intelligences for a living, is accidentally duplicated while teleporting, putting both Joels in danger from religious extremists, spies and the powerful organization that controls teleportation technology.

Why was it important to you that your vision of the future was so carefully grounded in plausible science?

I'm glad you brought that up. I've always been a fan of the intersection between sci-fi and humor. Especially hard sci-fi and humor. My favorite example of the genre is an essay by Larry Niven entitled "Man of Steel, Woman of Kleenex," in which we are treated to approximately 2,000 words of Niven typing out loud his scientific hypotheses on the physics and biology behind Superman and Lois Lane's bedroom antics. So, when Andy Weir wrote a hard sci-fi novel with a protagonist who spouted lines like, "Tell Commander Lewis, disco sucks," that awakened something inside me. I felt that if we now lived in a world where our hero could be an astronaut botanist who waxes poetic about eating poop potatoes and hates on disco, then I could get away with a hard sci-fi story featuring a protagonist who loved 1980s New Wave and told bad jokes to computers for a living.

Lengthy footnotes testify to your commitment to the science of The Punch Escrow, but how did you determine the amount of detail you could go into without losing your readers?

Ah, the footnotes. My publisher warned me the book would live or die by its footnotes. The thing is, I spent three years researching the science of The Punch Escrow before I ever set pen to paper. It was important to me that the science of the story not only be cool, but also plausible. I wanted to expose some of that research to the reader, because it's what makes Joel's world so lived-in. I wanted readers to understand why, for example, [genetically engineered] mosquitoes were the solution to air pollution, how they worked, and what the anthropological factors were that led to their development. As for quantity of detail, I would give all the credit there to my developmental editor, Matt Harry. I think he likely still feels the footnotes are "a bit too much" but at least they're not "much too much."

How did you come up with the Gehinnomites, and their ideology?

Initially, the Gehinnomites were nothing more than 22nd-century Luddites. But as I developed their history, I realized that it would be more interesting if they weren't anti-tech, but rather strictly anti-teleportation. Being religiously opposed to just one specific type of technology made them exponentially more interesting. I also liked the idea that they were pacifists--originally Quakers, having slowly grown weary of their passive resistance charter's ineffectiveness at manifesting the change they wanted.

As for the name, I was surprised to find that I'd coined "Gehinnomites." I half expected to find a Moloch-worshipping cult calling themselves that.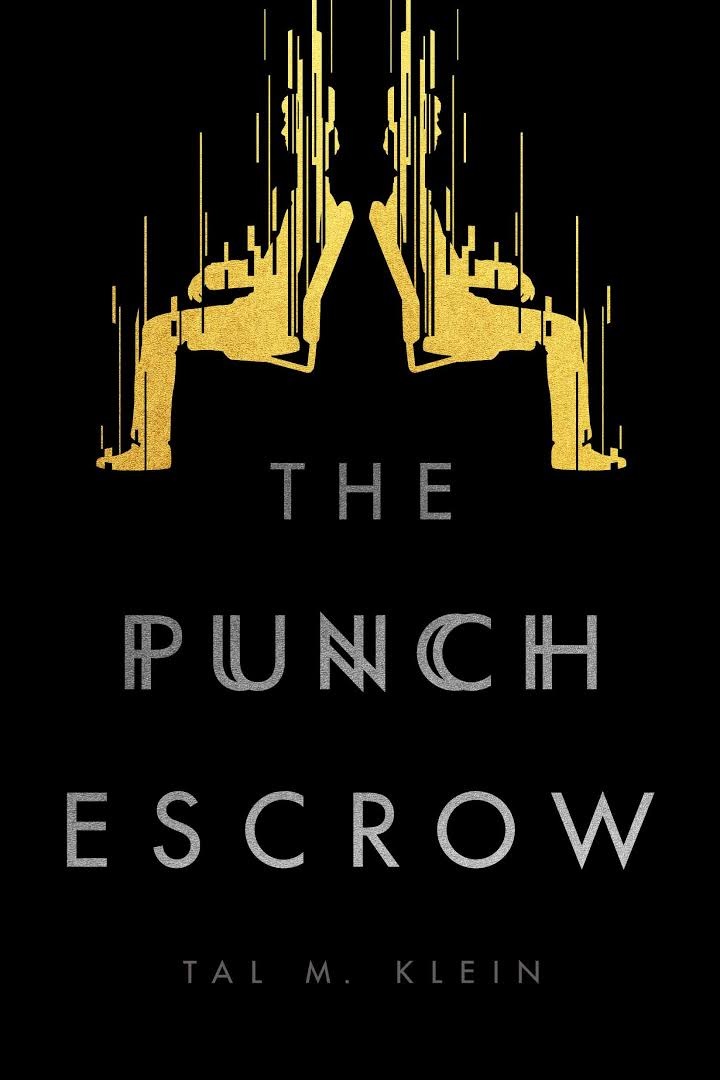 Having a double seems to provide the ultimate opportunity for self-consciousness. Do you ever find yourself obsessing over how people perceive you?

Oh God, yes. At the risk of diving too deep, I believe that in "cogito ergo sum," Descartes meant "we think therefore we are" not "I think therefore I am." The reason that's an important distinction (provided we solve for the scientific hurdles of teleportation such that the person who comes out is molecularly the same as the person who went in) is because it transforms his hypothesis into an anthropological quandary, rather than a philosophical one. What I mean is that the existence of any "one" is the onus of the "many."

One example that comes to mind is of a person in jail who did not commit a crime. Despite her innocence (which she knows), she remains a criminal until society (the "many") deems her innocent. The onus on her, her lawyers and her supporters is to sway the minds of the "many" until they believe, and thus proclaim her to be innocent. Only then does she become innocent. But that's just, like, my opinion, man.

Do you think science and/or science fiction are too often presented in a self-serious, humorless light?

Yes, and that's okay. I mean, one doesn't read 2001 for the laughs, just as one doesn't read The Hitchhiker's Guide to the Galaxy for the science. I take bigger issue with the way the future is too often presented in sci-fi as a miserable, dystopian place, and I'm sick and tired of it. That kind of thinking ultimately becomes a self-fulfilling prophecy. I built Joel's world to be awesome. There are so many cool toys in it. Yes, bad things happen there, but it's certainly not dystopian.

A lot of your ideas for the future can seem pretty off-the-wall to a layperson. How do you develop your ideas?

I use a strategy method called Wardley mapping to assess the technological landscape of the future. It's a value chain mapping technique refined by my friend Simon Wardley. The basic idea is that if we can assess what components of tech will become commoditized and how quickly they will become so, then we can envision innovations that build upon those commodities in alignment with the needs of the market.

I'm sure I've gotten a lot of things about the 22nd century wrong. I hope we don't end up relying on mosquitoes to clear the air. But it's feasible that we might!

Philosophically, your novel seems to revolve around how the reader thinks about the famous Ship of Theseus thought experiment. To give a rough summation: Theseus' paradox asks whether, after every constituent part is replaced over time, his ship is still fundamentally the same ship. Your novel leaves the answer to the question ambiguous, but what do you think?

To take a stab at an answer, I think we go back to "cogito ergo sum." Say we're having a debate about this topic, to settle the matter once and for all. You make a strong and impassioned case about Theseus' ship being Theseus' ship, citing practical evidence, historical anecdotes and hard data. I step up to my podium and offer to buy everyone drinks if they agree with me that it's not Theseus' ship. The crowd sides with me because they'd rather go drinking than listen to us debate. At the bar, you come up to me and ask me if I really believed it wasn't Theseus' ship. I hand you a beer and say, "The answer lies at the bottom of this bottle."

Tell us about The Punch Escrow's unusual journey to publication. Before winning the Geek & Sundry contest, had you approached traditional publishers?

The decision to go with Inkshares versus traditional publishing likely owed more to my day job as a marketer than my being an author. A couple of weeks before the Inkshares Geek & Sundry contest was announced, I was offered a publishing deal by a well-known and respected publishing house. However, the deal they offered me had absolutely no digital marketing built into it. This gravely concerned the marketer in me.

The funny and totally true question I asked the publisher was, "Why can't you guys market my book on sites where my ideal readers hang out, you know, like Nerdist and Geek & Sundry?" I love shows like Because Science, Critical Role, Signal Boost and Co-optitude, and I thought of "people like me" as my target demographic. Their response was, "Digital marketing doesn't work." Then, suddenly, the Geek & Sundry contest appeared in my inbox, and it was exactly in the genre of my book. Almost too kismet to be true! I knew about Inkshares from supporting a book a friend of mine had written, so I knew they were legit. I told the traditional publisher, "No thanks," and I went for it with Inkshares. My agent thought I was nuts. He fired me! --Hank Stephenson, bookseller, Flyleaf Books, Chapel Hill, N.C.
Book Reviews
Fiction

Graywolf Press, $16, paperback, 236p., 9781555977825
Atria, $26, hardcover, 400p., 9781501139239
Spiegel & Grau, $28, hardcover, 448p., 9780812995947
And Other Stories, dist. by Consortium, $13.95, paperback, 112p., 9781908276926
Mystery & Thriller
Berkley, $26, hardcover, 384p., 9781101990483
Science Fiction & Fantasy
Inkshares, $14.99, paperback, 300p., 9781942645580
Biography & Memoir
Harper, $27.99, hardcover, 304p., 9780062458797
W.W. Norton, $35, hardcover, 624p., 9780393063899
History

Random House, $30, hardcover, 384p., 9780399588723
Travel Literature
University of North Carolina Press, $30, hardcover, 312p., 9781469631592
Children's & Young Adult

Roaring Brook Press, $16.99, hardcover, 40p., ages 3-7, 9781626721777
Scholastic Press, $16.99, hardcover, 352p., ages 9-12, 9780545880831